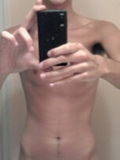 ABOUT ME

Birthday: Sep 18, 1996
Age: 19
Gender: Male
Relationship: Single
Orientation: Gay
About Me:
sex? I'm real good. bottom that is but I'll top if I must(; I'm 1/3 American/Spanish/Filipino. shaved head, unshaved pubes. I have a great ass and I know how to use it. wanna put me in a video? hit me up.
Interests & Hobbies:
swimming, swimming, and swimming! one and only priority.