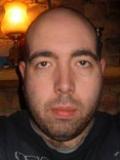 ABOUT ME

Birthday: Nov 01, 1983
Current City: London
Age: 32
Gender: Male
Occupation: Filmmaker/Writer.
Relationship: Single
Orientation: Gay
About Me:
I'm 29, from London in the UK. I am looking for lots of fun with plenty of guys at the moment. I am open to this leading somewhere else in the future too.
Interests & Hobbies:
Filmmaking, writing, acting watching TV and films, reading, working out, academia, physics. Socialising, Social Networking, drinking, pubs and clubs. Plus of course, sex with men!
Favorite Movies & Shows:
The Simpsons, Heroes, Desperate Housewives, Brothers and Sisters, Shameless, Skins, Friends, Gavin and Stacey, Little Britain, Catherine Tate, Royle Family repeats, Buffy The Vampire Slayer repeats. Favourite movies: Pulp Fiction, (and anything else with Bruce Willis in! The man gets me hard! ;-)) Kill Bill (both parts equally), Alred Hitchcock films, The Star Wars Saga, American Beauty, As Good As It Gets, The Birdcage, A Cat On A Hot Tin Roof, Bette Davis films, Film Noir, Mildred Pearce, any old Hollywood.
Favorite Music:
Very eclectic taste in music, although current music, I think anyone will have to go a long way to better Lady Gaga at the moment!
Favorite Books:
The Lord of the Rings (way before the films were made too I must stress!) The Wheel of Time, Nineteen Eighty-Four, Crime and Punishment, Shakespeare and many others.