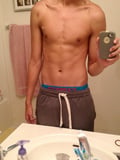 ABOUT ME

Birthday: May 10, 1967
Current City: San Francisco
Age: 48
Current Zip/PO code: 94112
Gender: Male
Occupation: DiscJockey.
Relationship: Taken
Orientation: Gay
About Me:
Im asain 5 feet and 7 inches tall. I have black eyes and black hair. Im average build,smooth skin and Im cut.I am a Bottom. I do have a husband but we do love to look at pictures and meet other people. As friends and more.We are as Horny and interested in three ways.. Im a Taurus. Dont smoke. I do love Big Chubby,Hairy Daddies,Cubs,Otters. Rounded Bellies and Beefy Men. Truckers,Cops,Construction Worker Types. Be in Control. Not into scat or anything nasty. Just mutual Sex,Jack Offs,Getting Fucked, Blow Jobs and Just Sex. Im honest and Open Minded to Everyone. Im not picky. Lots of Tend to people Class or Types. But theres Plenty of Meat out there for us all..Same one kind of gets Boring. Explore while you Can. Oops . I dont like drama or not into the Drug Scene.
Interests & Hobbies:
Djaying,Music.Mostly lots of the 60s, 70s and 80s Vintage Classic.I love Cooking and feeding my daddy at Home here. I love the Kitchen and the Outdoors. I love Sex out doors. Its Fun and exciting. I do love Drawing and writting Poems and Poetry.I Love Dancing and I am a Social Person.
Favorite Movies & Shows:
Kill Bill 1 and 2, X MEN, CHARLIES ANGELS,BLOOD LAST VAMPIRES, LORDS OF THE RING. ALL PARTS, NARDIA, TOO WONG FOO, PRICILLA QUEEN OF THE DESSERT, WILLY WONKA THE ORIGINAL, BRADY BUNCH,EXCORCIST,HALLOWEEN, TITANIC,HOME OF THERE OWN,FLASHDANCE,PRETTY AND PINK AND BREAKFAST CLUB..
Favorite Music:
I WILL SURVIVE,BEST OF MY LOVE,CALIFORNIA DREAMIN, WILL YOU STILL LOVE ME,SUPERSTAR. CARPENTERS VERSION, DO YOU WANNA FUNK, BE MY BABY,GOT TO BE REAL, SHAKE YOUR GROOVE THING, JESSIES GIRL,MICKEY,EVERYBODY WANG CHUNG, LOST IN EMOTION, HEAD TO TOE,DANCING QUEEN, AND LOVE IS LIKE A BATTLE FIELD, CRIMSON AND CLOVER..
Favorite Books:
JAWS, STAND BY ME, EXCORCIST, HALLOWEEN,LORDS OF THE RING,HARRY POTTER, AND STAR WARS. OR ANYTHING XMEN OR JUSTIC LEAGUE OF AMERICA AND KILL BILL..