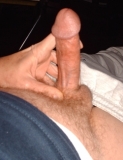 ABOUT ME

Birthday: May 01, 1965
Current City: Jacksonville
Age: 50
Current Zip/PO code: 32205
Gender: Male
Relationship: Single
About Me:
Hey guys, I'm looking for a cool guy who is cleancut, good shape, sane, and disease-free for friendship and hopefully more if things work out. Really like younger dudes, 18-30s. I'm single, 43 (I look a lot younger - most think 30s), slim build, 5'11", 160#, 32w, naturally smooth chest, flat stomach, dark blond, and preppy. And my dick is 7". I'm str8, except I like guys - go figure. I'm goodlooking, cleancut, and easy-going. Disease/drug-free, non-smoker, and looking for same. Hit me up if interested.
Interests & Hobbies:
iking, hiking, anything outdoors...travel, dining out, college football, watching documentaries, and of course, SEX!