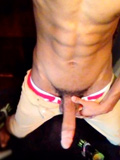 ABOUT ME

Occupation: Webmaster and Janitor
Website: http://www.menwithcams.com
About Me:
I'm the webmaster and owner of MenWithCams.com I started the site way back in 1999 and have been bringint fresh new amateur guys to the world ever since. MenWithCams.com is one of the longest running multi-guy cam sites online. The guys are 100% amateur and perform live shows from their homes, apartments or bedrooms. The site is somewhat unique today because there are no per minute charges to watch any of our live shows. All the live shows are archived and available for our members to watch them any time. There are more than 1200 full length amateur webcam videos in our archives, and new ones are added every day. I hope you enjoy the clips I upload here to RocketTube. Any guy in the videos I post are currently performing live, or appear in the video archives on the site.