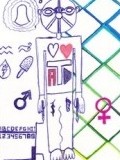 ABOUT ME

Birthday: Feb 12, 1988
Age: 27
Current Zip/PO code: 76131
Gender: Male
Relationship: Single
Orientation: Gay
About Me:
and i like porn but there's a lot more to life in my mind, i love philosophy, oneness, spirituality, mentalism, magic, love, art, i'm an artist i make pictures featuring themes of love, unity, and infinite consciousness
Interests & Hobbies:
Art, Literature, Occult, Zen, Taoism (now christian)
Favorite Movies & Shows:
Kill Bill vol. 1 and 2. The Count of Monte Cristo. Harry Potter 1-7! The Pirates of the Caribbean. The Fountain. Anything with a good plot and cool special effects really!!!
Favorite Music:
The Gorillaz. Muse. Radiohead. Gnarls Barkley. Infected Mushroom. Shpongle. Royksopp. Trentemoller.
Favorite Books:
The Kybalion. Tao Te Ching. The I-Ching. The Law of One. The Hitchhiker's Guide to the Galaxy series.