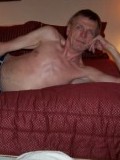 ABOUT ME

Birthday: Mar 21, 1953
Current City: San Antonio
Age: 62
Current Zip/PO code: 78201
Gender: Male
Occupation: Administrative Assistant
Relationship: Single
Orientation: Gay
Website: https://www.facebook.com/dennis.hayward
About Me:
When I'm at home alone (which is all the time), I divide my time between the television and the computer. When I'm out driving I stick to the speed limit. Speeding wastes fossil fuels; plus you might miss seeing a hot man walking by. I've been in a rut for 3 years now. My life partner and soul mate died in August '09. I with drew and fell into this rut. I want to get out of the rut my life is in. The philosophy I live by is "If you can't be with the one you love, love the one you're with." I'm not changing my life, I just want to improve it to the tune of one man. If you contact me please include a face picture. I look forward in meeting you.