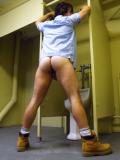 ABOUT ME

Birthday: Oct 29,
Current City: Minneapolis
Current Zip/PO code: 55425
Gender: Male
Occupation: Advanced Chemical Engineering
Relationship: Single
Orientation: Gay
About Me:
6'1" / 180 # / shaved head / hairy chest, dick, ass, legs / normal, educated, respectful if respected, forward (read: "blunt and honest"), not into the gay bullshit/clone behavior/worthless superficial loser behaviors. YOU: prefer my age or older (early 40s); tall, normal, secure, honest, all-man, hung hairy NEG tops and vers studs. (NO BOTTOMS) Real men hook up. They don't play cyber games with fake profiles.