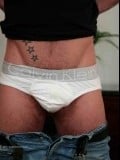 ABOUT ME

Birthday: Nov 03, 1992
Current City: Coventry
Age: 23
Gender: Male
Occupation: chef
Relationship: Single
Orientation: Gay
About Me:
i am a fun, loving, caring, responsible, young, outgoing guy that says what i think should be said at that time. i love cooking and reading, but i also love xbox with a passion.
Interests & Hobbies:
Cooking, reading, playing xbox, cleaning, and watching tv.
Favorite Movies & Shows:
Soaps, family guy, American dad, the simpsons, harry potter, white chicks, the damned united, pirates of the Caribbean and lots more.
Favorite Music:
Too much too write.
Favorite Books:
harry potter, Rio: my story, autobiographies and interesting stuff.