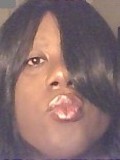 ABOUT ME

Birthday: Aug 14, 1978
Current City: Worcester
Age: 37
Current Zip/PO code: 01609
Gender: Female
Relationship: Single
Orientation: Straight
About Me:
I am a 34 year old chubby caribbean male to female transsexual that is mostly into straight guys because some straight guys sees us as women (mostly white boiz). I also love white boiz with swag that has a nice bubble booty that sags their pants. it's a turn-on to me. I am a bottom.