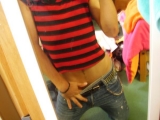 ABOUT ME

Birthday: Sep 15, 1989
Current City: Cincinnasti
Age: 26
Current Zip/PO code: Hm...
Gender: Male
Occupation: Sponge
Relationship: Single
Orientation: Other
About Me:
I'm an avid star gazer and cloud watcher.
Interests & Hobbies:
Anime, all things Jap., Autumn.. Lots..
Favorite Movies & Shows:
Anything Horror related. I
Favorite Music:
Alternative, electronica, indie, mainstream, anything really.
Favorite Books:
I read all the time don't feel like typin' 'em all but mostly teen fiction ha... Love fantasy stuff.