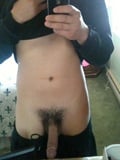 ABOUT ME

Birthday: Mar 06, 1989
Current City: Homosassa
Age: 26
Gender: Male
Relationship: Single
Orientation: Gay
About Me:
I'm a sweet, understanding, sensitive guy. I'm pretty much a little bit masculine and feminine at the same time. I'm a very down-to-earth guy. I'm very laid-back but glamorous and sporty at the same time. I'm just trying to find my Prince Charming, someone I can be with for the rest of my life. I'm very loyal, honest, and trust-worthy looking for the same. I don't care much what someone looks like, if they can make me laugh and have beautiful eyes we'll get along.
Interests & Hobbies:
I love music more than anything else. I love fashion and poetry. And I love to cook. I'm currently working on becoming a professional recording artist, a fashion designer, a novelist, and an actor. I've auditioned for American Idol and I've wrote many poems and designed many outfits. I'm also working on a novel, that when it's finished will hopefully be like Twilight mixed with Dragon Ball Z and Inuyasha.
Favorite Movies & Shows:
I like pretty much everything. I loved New Moon. It was awesome! I watch the Golden Girls every night. It's a good show. And I love Monday Night Raw and Family Guy.
Favorite Music:
Everything but classical. Britney Spears, Lady GaGa, P!nk, Beyonce, Mariah Carey, Martina McBride, Celine Dion, Shinedown, Daughtry, David Archuleta, Kelly Clarkson, Adam Lambert, Carrie Underwood, and many more.
Favorite Books:
I love tons of books. The Twilight Saga books. Peach Girl. I like a lot of manga books and yaoi books. I also like romance novels, Poetry, and Fantasy books with mermaids and fairies.