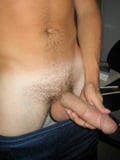 ABOUT ME

Birthday: Dec 10, 1976
Current City: Pooler
Age: 39
Current Zip/PO code: 31322
Gender: Male
Relationship: Open
Orientation: Bisexual
About Me:
I'm a very cool laid back person who loves life to the fullest. I am very discreet and confidential about my sexual desire for men. I am a top brother looking for that bottom brother to satisfy my lust for a man. I am trustworthy, honest, and real person. I am as real as they come and also drug free and disease free and look for the same in my mate.
Interests & Hobbies:
I love to go to new places and do new things. Love to hang with my friends and have a good time doing whatever it is we like to do. Love to watch football and baketball and go to the movies, and bowl. Always up to try something new!
Favorite Movies & Shows:
All the CSI's and NCIS and Criminal Minds and First 48. My favorite movies are Bad Boys 1 & 2. Anything with Will Smith and Martin Lawerence in it. Also a big Eddie Murphy fan. Also love comic books and comic book shows and movies. Also love my XBOX and Kinect.
Favorite Music:
Is Reggae, Rap, R&B, as well as some Pop, Jazz, and gospel music.
Favorite Books:
Men are from Mars and Women are from Venus! Great book!