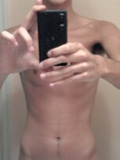 ABOUT ME

Birthday: Jan 14, 1991
Current City: Bacolod City, Philippines
Age: 24
Current Zip/PO code: 6100
Gender: Male
Occupation: None...I'm still a student but i want to be a porn star...
Relationship: Open
Orientation: Bisexual
About Me:
Im 18 years old from Philippines... Height: 5'6 and 1/2 Eye Color: Brown skin Color: Tan Hair COlor: Black
Interests & Hobbies:
Watching videos in this site... I'm really interested to meet Elijah and Milo Peters...