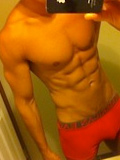 ABOUT ME

Birthday: Feb 08, 1957
Current City: Göttingen
Age: 57
Current Zip/PO code: Göttingen
Gender: Male
Occupation: guardian
Relationship: Single
Orientation: Gay
Website: http://www.amorifer-sg@gmx.de
About Me:
I am rather quit and attentive. aktiv and passiv
Interests & Hobbies:
I like natur. I play classik musik by piano. I like to talk with other people.
Favorite Movies & Shows:
films with adventure
Favorite Music:
classik musik, opera, some modern musik like free jazz
Favorite Books:
poems and novels, fairy tails etc.