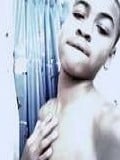 ABOUT ME

Birthday: Jan 25, 1994
Current City: Indianapolis
Age: 21
Current Zip/PO code: 46231
Gender: Male
Occupation: referee
Relationship: Single
Orientation: Gay
About Me:
I'm a cool and laid back person. I'm a person who always goes for their dreams no matter what. I've been taken advantage of and now I have to stop it. I don't like fake people and I never will. Also, I love watching porn for some reason.
Interests & Hobbies:
I love playing baseball, basketball, and sometimes football. I also love to sing and dance.
Favorite Movies & Shows:
My fav movie is 30 Days of Night. My fav show is Noah's Arc.
Favorite Music:
I love listening to Gospel and Soul/R & B music.
Favorite Books:
I love the series the Baudelaire children and all of Stephen King books.