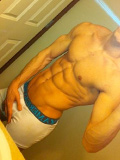 ABOUT ME

Birthday: Jun 06, 1985
Age: 30
Gender: Male
Occupation: Self-Employed
Relationship: Single
Orientation: Gay
About Me:
I am a fun loving guy in a very laid back sort of way. I don't like gossip, drama or lies. Life is too short so why waste the time on crap like that. I am faithful and true to the causes I support.
Interests & Hobbies:
Love to write, sculpt, have great and intellectual conversations. Brain teasers are a passion. I'm Italian so I love to cook and eat.
Favorite Movies & Shows:
Joan and Melissa, the new Karate Kid, The Red Violin, Selling New York, Face Off on SyFy, Being Human on SyFy, Dr. Oz Show.
Favorite Music:
I like all genres except rap.
Favorite Books:
I hate reading but love to write. I think my dislike of reading is because I don't want my writing to be overly influenced by others.