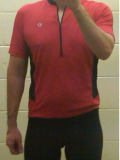 ABOUT ME

Birthday: May 01, 1971
Current City: Greenville, SC
Age: 44
Current Zip/PO code: 29615
Gender: Male
Relationship: Open
Orientation: Bisexual
Interests & Hobbies:
Cycling, walks on the beach, and other outdoor adventures. I like a hard man.
Favorite Movies & Shows:
My Cousin Vinnie
Favorite Music:
House dance and jazz.