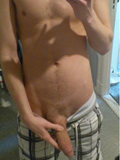 ABOUT ME

Birthday: Aug 02, 1986
Current City: Tampa
Age: 29
Current Zip/PO code: 33613
Gender: Male
Occupation: USF
Relationship: Single
Orientation: Gay
About Me:
I'm a supervisor for The University of South Florida and an Event Manager at the Sun Dome, both in Tampa, FL. I'm just your average 24 y/o GWM living the "American Dream".
Interests & Hobbies:
Computers, Concerts, Comedy Shows, Movies, Reading, Hiking, Cooking
Favorite Movies & Shows:
Breaking In, Weeds, Dexter, CSI, NCIS, NCIs LA, Pawn Stars, Silent Library, Supernatural.
Favorite Music:
Justin Timberlake, P!nk, Christina Aguilera, Michael Buble, Disturbed, My Chemical Romance.
Favorite Books:
Anything by Stephen King.