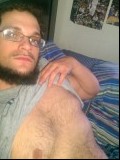 ABOUT ME

Birthday: Dec 24, 1987
Current City: chicopee
Age: 28
Gender: Male
Relationship: Single
Orientation: Gay
About Me:
My name is Chris. I'm a sexxx freak and a cock addickt. Let's have some fun. I'm a Hung cock lover, if you ain't 7inches plus then don't mesage me. Please be in shape. I love manly men.