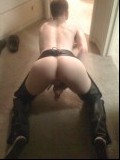 ABOUT ME

Birthday: Dec 1978
Current City: Sacramento, California
Age: 37
Current Zip/PO code: 95816
Gender: Male
Orientation: Gay
About Me:
This is some funny shit right here... asking what my favorite interests and hobbies are... or my favorite books... Hahahaha, yeah everyone goes to rocketube to find their perfect mate.
Interests & Hobbies:
I am a sleazy freak. I love leather and vinyl... imagine the two of us on leather sheets, in red vinyl chaps grindin all up on each other flicking our tongues at each other... I get up and sit on your face. My hips start thrusting, if you were a woman I'd be titty fucking you ... ahh shit yeah ahhhh fuck man ahh you're gonna make me cuuu.... ahh. I bend down and slowly suck you off until you moan so loud you cum.
Favorite Movies & Shows:
Damn we did this for 5 hours?
Favorite Music:
Any music you can fuck to. Hip Hop, Rap, R&B
Favorite Books:
I like Gone With The Wind... ....really? They couldn't adjust this so it were to be more related to SEX and PORN rather than E Harmony LOL....