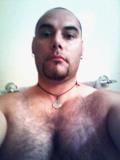 ABOUT ME

Birthday: Apr 29, 1972
Current City: Springfield, Mo
Age: 43
Current Zip/PO code: 65807
Gender: Male
Occupation: Work, work, work
Relationship: Open
Orientation: Gay
About Me:
Fun loving guy, in an open relationship.
Interests & Hobbies:
Sci-Fi, history, art, nature, music, dance, gym, photography, just to name the basics.
Favorite Movies & Shows:
Big Bang Theory, Any incarnation of Star Trek, Mythbusters, The Voice, Dancing with the Stars, So You Think You Can Dance, RuPaul's Drag Race, Warehouse 13, Mysteries at the Museum, and practically anything Disney/Pixar animated.
Favorite Music:
Pretty eclectic taste in music. Not a huge fan of Country, but there is some I like.
Favorite Books:
Laurel K. Hamilton's "Anita Blake" series & all of the Harry Potter books.