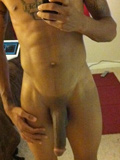 ABOUT ME

Birthday: Mar 02, 1965
Current City: Silver Spring
Age: 50
Current Zip/PO code: 20910
Gender: Male
Occupation: mover
Relationship: Taken
Orientation: Gay
About Me:
I am a nice person who likes looking at other guys. I am taken, but I still like to look.
Interests & Hobbies:
watching porn
Favorite Movies & Shows:
Twlight Zone, Get Smart, Batman, Night Court, Friends, CSI. Law and Order.
Favorite Music:
Anything but heavy metal
Favorite Books:
Anything but romance novels.