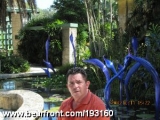 ABOUT ME

Birthday: Dec 05, 1960
Current City: Miami
Age: 55
Current Zip/PO code: 33155
Gender: Male
Occupation: Claims Examiner
Relationship: Single
Orientation: Gay
About Me:
Simple down to earth Gay Man. Love long sex sessions. I am Top/Vers. Love to rim, fuck and suck Cocks. Foot fetishes. Love small Dicks. Love Bears and Chubby guys.
Interests & Hobbies:
Bicycle ride, Theatre, Nature Lover, Art, Political News.
Favorite Movies & Shows:
The Matrix, What ever happen to Baby Jane, I love Lucy, Jeopardy.
Favorite Music:
Pink Floyd, Donna Summer.
Favorite Books:
The Davinci Code.