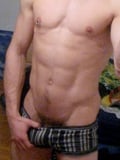 ABOUT ME

Birthday: May 26, 1990
Current City: Antioch
Age: 25
Current Zip/PO code: 94509
Gender: Male
Occupation: High Perf Engine Builder and custom car fabrication.
Relationship: Single
Orientation: Bisexual
About Me:
Just looking to have some after hours relaxation
Interests & Hobbies:
Cars from nitro R/C to NOS powered American muscle!
Favorite Movies & Shows:
Sci-fi , action and some comedy!
Favorite Music:
Heavy metal and classic rock .