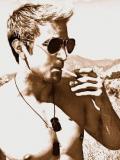 ABOUT ME

Birthday: Dec 29, 1979
Current City: bevhills dahlin
Age: 36
Current Zip/PO code: 90210
Gender: Male
Occupation: Fashion industry
Relationship: Single
Orientation: Gay
About Me:
I'm the katz pajamas!! I'm a funny, cute, down to earth greek spanish guy that loves cock!
Interests & Hobbies:
Slapping old ladies and collecting compliments
Favorite Movies & Shows:
The walking dead, don't trust the b in apt 23, happy endings, 2 broke girls (yeah i like comedy :P)
Favorite Music:
I like it all especially anything rock and with a dance elctro beat ;) (yeah i likezz dance)
Favorite Books:
does in touch magz count??