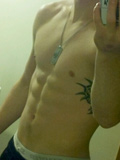 ABOUT ME

Birthday: Nov 26, 1982
Current City: Elwood
Age: 32
Current Zip/PO code: 66024
Gender: Male
Occupation: Student
Relationship: Single
Orientation: Bisexual
Website: http://www.bearporn.tv/
About Me:
Bi guy who like to have fun. A masculine guy who is laid back and love to get down at times. Enjoys meeting new people and especially husky guys who use to play football and baseball in high school. I love playing video games (mainly sports games like Madden, college football, baseball and WWE games.) I love watching major league baseball and music. I love the Boston Red Sox and have a huge crush on Jason Varitek, Kevin Youkilis, Dustin Pedroia and Josh Beckett. Yeah I"m a crush whore but who is not. If you want to chat me up... Hit me up on joetowncub@hotmail.com and please have a pic or I will not answer or just leave a message on here. I love meeting new people and love to talk. Also, you can reach me on Skype at rashad.nathan.bolden
Interests & Hobbies:
Watching football, baseball, basketball, pro wrestling, video games, and music.
Favorite Movies & Shows:
Action, Adventure, Comedy
Favorite Music:
Hip-Hop, Rap, Pop, Rock, R&B 50 Cent 3 Doors Down Nelly Black Eyed Peas D12 E-40 Fat Joe G-Unit Linkin Park Jay-Z Panic! At The Disco Maroon 5 Red Hot Chili Peppers Nickelback Yung Joc Flo Rida Beyoncé Lil' Kim Mase Destiny's Child Chingy Chamillionaire Fall Out Boy My Chemical Romance Yellowcard Lil' Flip Ciara Chris Brown Trick Daddy Green Day Usher Kayne West Kid Cudi 30 Seconds to Mars Shop Boyz Gnarls Barkley Janet Jackson Lenny Kravitz Lupe Fiasco Missy Elliott OneRepublic Rick Ross Sean Kingston Snoop Dogg Dr Dre Wyclef Jean Eminem Jamie Foxx Alicia Keys T.I. Lil Wayne Tech N9ne Michael Jackson Incubus 3OH!3 Kanye West
Favorite Books:
All the classic you read in high school.