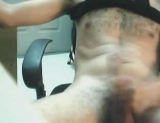 ABOUT ME

Birthday: Jun 15, 1981
Age: 34
Gender: Male
Occupation: Financial advisor
Relationship: Open
Orientation: Gay
Interests & Hobbies:
I like watching a good movie with some friends, doing exercise, soccer, baseball, swimming. I really enjoy travelling.
Favorite Movies & Shows:
I love Science Fiction movies, I like the nanny, will and grace, friends.
Favorite Music:
I am not really into something in particular, but I enjoy any kind of music.
Favorite Books:
I love classics, and history.