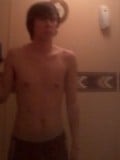 ABOUT ME

Birthday: May 04, 1993
Current City: Douglas
Age: 22
Current Zip/PO code: 82633
Gender: Male
Occupation: Teacher
Relationship: Open
Orientation: Gay
About Me:
I am a 19 year old guy who works for our school district. As you can probably guess I am gay. I have my own youtube channel started and you are able to get to know more about me there.
Interests & Hobbies:
My interests and hobbies inlcude reading, writing songs, poetry and stories. I love singing and listening to music.
Favorite Music:
I listen to almost all types of music, except hard rock and screamo.
Favorite Books:
I enjoy reading mystery/murder books. But I also like a little magic books now and then.