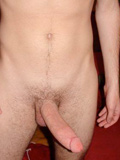 ABOUT ME

Birthday: Aug 10,
Current City: Fort Lauderdale
Current Zip/PO code: 33301
Gender: Male
Occupation: Small Business Owner
Relationship: Single
Orientation: Bisexual
About Me:
Fun loving, sexual. Enjoy staying home with someone and watching a movie and snacking.
Interests & Hobbies:
I work most of the time, however I enjoy gardening, walking.
Favorite Movies & Shows:
Mama Mia,anything with Meryl Street
Favorite Music:
Oldies, lite rock, classical, piano and violin
Favorite Books:
IS ANYBODY OUT THERE?