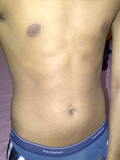 ABOUT ME

Birthday: Apr 12,
Current City: All Over the World.
Gender: Male
Occupation: Doctor
Relationship: Taken
Orientation: Gay
About Me:
Love a good beautiful hairy chested hot man!
Interests & Hobbies:
MEN
Favorite Movies & Shows:
Horror Movies and anything on LOGO except Rupauls Drag Race.
Favorite Music:
Alternative/pop/classical
Favorite Books:
I don't know how to read Sorry!