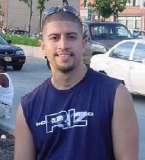 ABOUT ME

Birthday: May 21, 1970
Current City: Brooklyn
Age: 45
Current Zip/PO code: 11237
Gender: Male
Relationship: Single
About Me:
I'm single puerto rican. 5'7", 168 pounds, fade cut. Just a man that enjoying life to the fullest. I have a good sense of humor.
Interests & Hobbies:
Just ask me.