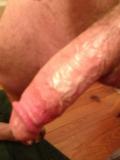 ABOUT ME

Birthday: Sep 15, 1963
Current City: Birmingham
Age: 52
Current Zip/PO code: 48009
Gender: Male
Occupation: Constant stroking
Relationship: Open
Orientation: Gay
About Me:
Hoprny pig who plays both pitcher and catcher. I like them big, thick and raw. A fist is always a treat.
Interests & Hobbies:
Sex, cum, ass, cock. Not necesssarily in that order!