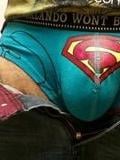 ABOUT ME

Birthday: Mar 26, 1981
Current City: Melbourne
Age: 34
Current Zip/PO code: 3065
Gender: Male
Occupation: Bar manager
Relationship: Single
Orientation: Gay
About Me:
Bar manager from Melbourne. Still finding my place in the world but having some fun on the journey. Into books and comics and porn, obviously!