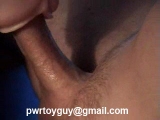 ABOUT ME

Current City: Chicago
Current Zip/PO code: 60640
Gender: Male
Occupation: Pleasure Coach for Men
Relationship: Single
Website: http://www.xtube.com/community/profile.php?user=pwrtoyguy
About Me:
I have real sex toys and sex machines for men. I'm totally cool with straight and married men. My collection includes: 1. Fleshlight pussy with several different inserts 2. Water Jet Machine for Men 3. Electrostimulation ("e-stim") 4. Venus 2000 for Men 5. Sybian 6. Fuck-Machine (yes, getting plowed by a machine!) 7. Surge Milker (this is a real milking machine from a farm, with receivers customized for male anatomy) 8. Full Stroke Machine 9. Hitachi Magic Wand (twin-head) 10. Aneros Prostate Stimulator My Surge Milking Machine can milk up to 4 guys at the same time. If you want more information, send me a private message.
Interests & Hobbies:
Male pleasure. Teaching guys new ways to pleasure themselves in ways they never thought possible. Sex toys and sex machines for men.