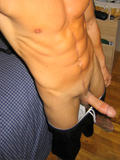 ABOUT ME

Birthday: Jul 20, 1988
Age: 27
Gender: Male
Occupation: Student
Relationship: Single
Orientation: Gay
About Me:
Hello, my name is Matthew, but most people just call me Matt. I am currently a senior at Colorado State University and I am double majoring in both Political Science and Criminal Justice. I am not too sure what I plan to do after I graduate, but grad school is looking more likely. I can either be a really talkative or a really quiet person. I am a really big nerd, I like to play video games and watch anime. I also have really bad ADHD, I hate letting that define me, but it is a part of me. In school I am a very hard worker, I have a 3.9 GPA, and school does take up a good deal of my time. I try to be an open and honest person, since I think that it makes for less complication in the long run. I am pretty close to my family, and I believe that life has its good and bad moments. If you are reading this then please feel free to talk to me, I am always open to meeting new people, even though I am pretty awkward.