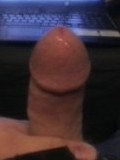 ABOUT ME

Birthday: Jul 27, 1992
Current City: Bushkill, PA
Age: 23
Current Zip/PO code: 18324
Gender: Male
Relationship: Single
Orientation: Gay
About Me:
I want to fuck. Enough said. If you are near by, and are between 19-26 years old... send me a message... sex is all I want...
Interests & Hobbies:
I am highly interested in sex and my hobbies are being barebacked, being rimmed, giving blow jobs, and being fucked raw and hard till I drop, and then being fucked again and again.... endless.