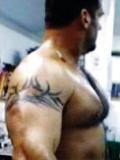 ABOUT ME

Birthday: Jul 18,
Current City: Texas
Gender: Male
Occupation: construction
Relationship: Single
Orientation: Gay
About Me:
I am a muscular, tight jean and boot wearing, 4x4 Dodge truck driving , sexually deviant, submissive, and twisted redneck guy. Hot body and ass and a small cock. Into physical, verbal, sexual use and abuse, domination and humiliation by black and ethnic guys.