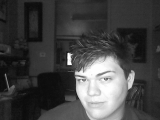 ABOUT ME

Birthday: Feb 13, 1991
Current City: ringgold
Age: 24
Current Zip/PO code: 30736
Gender: Male
Occupation: junior cosmotologist
Relationship: Single
Orientation: Gay
About Me:
i'm a XL size person but that only means that i'm XL the fun, XL the personality, XL in able to love somebody. but if you really want to know something about me... it's not hard to send a message and ask, lol.
Interests & Hobbies:
swimming, walking through down-town chattanooga, sing, cook, camping, movies, and i love to cuddle.
Favorite Movies & Shows:
will & grace, harry potter, charmed
Favorite Music:
well, just about anything but rap and that screaming stuff lol
Favorite Books:
harry potter, hatchet, lord of the flies, the scarlette letter.