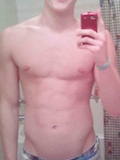 ABOUT ME

Gender: Male
Occupation: Local Truck driver
Relationship: Single
Orientation: Bisexual
Website: http://www.xtube.com/community/profile.php?u=Tazbear64
About Me:
Sorry guys I'm no longer an over the road truck driver, but I'm always looking for good bud here in Georgia. A black male bear here at 46, 6'2", masculine, football linebacker built, with a belly, no attitude and drama free. Always looking for good friends to hang out with. Like watching football games, movies, dinners, theme parks, computers, like the outdoors and sometimes watching porn. Very much into the bear community. Looking for other bears or fucks buddies. White, Latino, and/or Black (but not as dark as me) are OK. Hairy or not, must be masculine straight acting, and no attitude and drama free. As a Capricorn, I do have a very powerful sex drive. I'm versatile, but I tend not to focus on the tops or bottoms, but feeling good and making someone else feel good at the same time. I like to kiss, foreplay, cuddle, rim, body contact, and more. I am a bit of a pig at times, but I keep it clean and safe. I'm attracted to mature guys, who are younger or older (25-50+). Redheads Bears (Ginger) is an major turn on for me. I can be discreet for those who want it that way, for bi's or straight men. I do keep an open mind about LTR. If you're traveling to Georgia and if you are in the area of ether Atlanta or Norcross, I can host. Please NOTE: I will only reply to a face photo. Email me at Truckerbear64@ att. net . Business men, Constructions workers, police officers, and truckers are welcome.