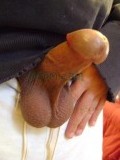 ABOUT ME

Birthday: Apr 20, 1980
Current City: Little Rock, AR
Age: 35
Current Zip/PO code: 72201
Gender: Male
Occupation: Latex Salesman @ Vandelay Industries
Relationship: Single
Orientation: Gay
About Me:
Horny southern boy, drama-free, laid back and pretty easy going. Is it 4:20 yet?
Interests & Hobbies:
HoT Guys & SeXy Guys... >:)
Favorite Movies & Shows:
Queer As Folk, Nip/Tuck, Stargate SG-1 & Atlantis.
Favorite Music:
Tiesto
Favorite Books:
Anything by Anne Rice, or her son Christopher. Lord of the Rings, and many more.