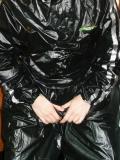 ABOUT ME

Birthday: Sep 22, 1972
Current City: Live in the country
Age: 43
Current Zip/PO code: L9M 1R3
Gender: Male
Occupation: writer
Relationship: Single
Orientation: Gay
About Me:
I tend to think of myself as average, though I've been told different. Lots of interests -both in life and sex. I think I am mostly a bottom -always thought 100%, but I'm sure I could do more with the right guy. Willing to try most anything.
Interests & Hobbies:
The standard stuff -music, movies, cooking -and eating, though I really don't gain the weight I should for what I can pack away! Sex can be considered a hobby, right? Experimenting with new and inventive ways to get off is fun.
Favorite Movies & Shows:
The Vampire Diaries is my favorite show! Also love Castle, Hawaii 5-0, Nikita, Supernatural. Some sitcoms, too. Hate, hate, hate 'reality' television.
Favorite Music:
Lady Gaga. Roxette. E Nomine. The Veronicas. At least, that's what I'm in the mood for right now. Also like rock, hard rock, some country, dance.
Favorite Books:
James Patterson. Mary Higgins Clark. Iris Johansen.