EMOJAY'S PROFILE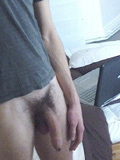 Rating: 1 RATINGS
Rate Me:
ABOUT ME
Birthday: March 31, 1991
Current City:
Age: 26
Current Zip/PO code:
Gender:
Occupation: Hot Topic Associate/ Fun Factory Lead CSR
Relationship: Taken
Orientation: Gay
About Me:

I\'m Emojay I\'m twenty years old and I\'m from the island of Maui Hawaii. I have a boyfriend. I basically love the porn so I created this profile. Please don\'t be a weirdo or a stalker. Aloha! I would put a picture up but I can\'t cause I only got my iPhone right now!

Favorite Movies & Shows:

Glee The Real House Wife (NY is my favorite) Americas Next Top Model The Glee Project Ru Paul\'s Drag U and Race Queer As Folk The Secret Circle GLEE

Favorite Music:

LADY GAGA Katy Perry Yeah anything pop culture.
My Favorite Videos
My Friends