GUYSONLY'S PROFILE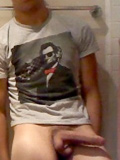 Rating: Not Rated RATINGS
Rate Me:
ABOUT ME
Birthday: July 14, 1900
Current City: winter garden
Age: 117
Current Zip/PO code:
Gender:
Occupation: Working Off Book
Relationship: Single
Orientation: Gay
About Me:

Hey People Im jonathan a young sexy teen, Im 5,10, 6\" long, hispanic, avrage body. I like guys between 17-26 If you really wanted to flatter me or get me in bed ill tell you what i like... i like to be complimented and feel wanted i dont wana feel like a one night staind even if thats the case.

Favorite Movies & Shows:

My favorite movie in the hole world is Titanic!!!

Favorite Music:

I love to listen to... lady gaga, madona, cher, la roux, Usher... thats just some to name.
My Favorite Videos
My Friends