JACOBSMITH'S PROFILE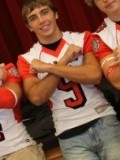 Rating: 4 RATINGS
Rate Me:
ABOUT ME
Birthday: January 1, 1990
Current City:
Age: 27
Current Zip/PO code:
Gender:
Occupation:
Relationship: Single
Orientation: Gay
About Me:

I love the cock! mainly 7+ inches :) I can suck dick like no one else... I\'ve been told by many ;D PS. i have a 9in dick. incase you wanted to know. haha

Favorite Movies & Shows:

sex drive, madea, transformers, scary movies 2 and 3.

Favorite Music:

paramore, flyleaf, lmfao, lil wayne, nicki minaj, coldplay. so on...
Recently Watched Videos
My Friends