LOVERDUDE'S PROFILE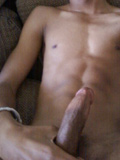 Rating: Not Rated RATINGS
Rate Me:
ABOUT ME
Birthday: January 5, 1992
Current City: Los Angles
Age: 26
Current Zip/PO code:
Gender:
Occupation: Still in school
Relationship: Taken
Orientation: Bisexual
About Me:

I\'m awesome a cool dude. I\'m like the best person u\'ll ever know. I\'m 18 I\'m emo I love all kinds of thing. So yeah I\'m FUCKING AWESOME.

Favorite Movies & Shows:

Favorite movie is KICK ASS. Favorite show is MARRIED WITH CHILDREN.

Favorite Music:

Favorite band is IRON MAIDEN. I love heavy metal.
My Favorite Videos
My Friends