MARIE112'S PROFILE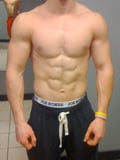 Rating: Not Rated RATINGS
Rate Me:
ABOUT ME
Birthday: February 14, 1978
Current City: Minneapolis-Milwaukee-Chicago
Age: 39
Current Zip/PO code:
Gender:
Occupation: Sales Associate
Relationship: Single
Orientation: Other
About Me:

I try to do different types of things. How do you know what you like until you try it?

Favorite Movies & Shows:

Most cartoons,Modern Family,any surgery show, every version of Law&Order

Favorite Music:

Different types.
My Favorite Videos
My Friends