PARAMOUR0421'S PROFILE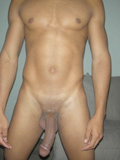 Rating: Not Rated RATINGS
Rate Me:
ABOUT ME
Birthday: December 23, 1990
Current City: We will talk about that later!
Age: 27
Current Zip/PO code:
Gender:
Occupation: Don\'t ask don\'t tell
Relationship: Single
Orientation: Gay
About Me:

Well I\'m here and horny. ! Hit me if ya want me!

Favorite Movies & Shows:

YPF...( young people fucking (movie))

Favorite Music:

Any slow sexy music. Or any bubbly pop music. Or any real rock and roll! R&B is the best though.
My Favorite Videos
My Friends