SUSKEIHATTORI'S PROFILE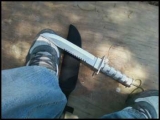 Rating: Not Rated RATINGS
Rate Me:
ABOUT ME
Birthday: November 25, 1978
Current City: Salisbury
Age: 39
Current Zip/PO code:
Gender:
Occupation: telecommunications
Relationship: Open
Orientation: Gay
About Me:

i\'m almost 32, and still look and feel like i\'m 23. if you\'ve EVER met me... then you know that i\'m ALL about the SUPER SEXXUAL and the FREAKY DEAKY. redheads drive me crazy!!!

Favorite Movies & Shows:

Nurse Jackie, Family Guy, Vampire Diaries, TrueBlood, WWE, Glee, Desperate Housewives, ANYTHING Tarantino, ANYTHING Z.Galifinakis, ANYTHING Simon Pegg, FRIDAY(s), ADULT SWIM, Reno 911, Operation Repo

Favorite Music:

i listen to ALL music!!! even country sometimes...
My Favorite Videos
My Friends