VIRGIN-BUTLOVE2_SUCK'S PROFILE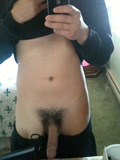 Rating: Not Rated RATINGS
Rate Me:
ABOUT ME
Birthday: March 6, 1989
Current City: Homosassa
Age: 28
Current Zip/PO code:
Gender:
Occupation:
Relationship: Single
Orientation: Gay
About Me:

I\'m a sweet, understanding, sensitive guy. I\'m pretty much a little bit masculine and feminine at the same time. I\'m a very down-to-earth guy. I\'m very laid-back but glamorous and sporty at the same time. I\'m just trying to find my Prince Charming, someone I can be with for the rest of my life. I\'m very loyal, honest, and trust-worthy looking for the same. I don\'t care much what someone looks like, if they can make me laugh and have beautiful eyes we\'ll get along.

Favorite Movies & Shows:

I like pretty much everything. I loved New Moon. It was awesome! I watch the Golden Girls every night. It\'s a good show. And I love Monday Night Raw and Family Guy.

Favorite Music:

Everything but classical. Britney Spears, Lady GaGa, P!nk, Beyonce, Mariah Carey, Martina McBride, Celine Dion, Shinedown, Daughtry, David Archuleta, Kelly Clarkson, Adam Lambert, Carrie Underwood, and many more.
My Favorite Videos
My Friends